Features - The Vesica Dashboard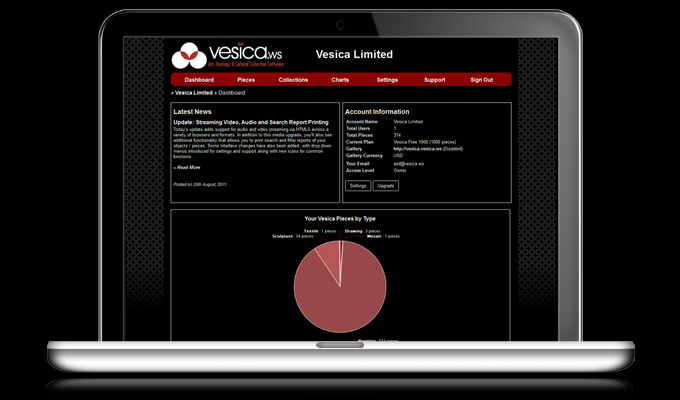 800,000 objects. 1,540,000 documents.
1,227,000 images. 300,000 audio guides.
1 Vesica Dashboard.
Vesica is an end-to-end collection management application delivered in the cloud. It's a cost-effective, easy to use, secure and fully backed up solution with a dashboard that gives you a snapshot view of your collections and objects.
With Vesica, you can take everything online - images, documents, audio, video - and any other information you have about the objects. You won't have to worry about making local backups or managing databases and servers with critical information about your collections. It's all available within Vesica - all you need is an internet connection and a browser.
Vesica is the only application that allows for documentation and management of your collections and all related assets / media online - making it the first true and only Software as a Service (SaaS) product in this class.
The Vesica Dashboard gives you a snapshot view of your account.
Get a visual view of your objects
See what kind of objects your collection is made up of. Example: textiles, paintings, sculptures, etc.
Choose from a variety of pie charts
Sort your collections in pie charts by artist, techniques, regions and more
Review all your account details
See how your account is doing, in terms of object allowance, number of users, your online gallery and more
Get the latest news & updates
The dashboard gives you a summary view of the latest news and feature releases about Vesica
Access billing and account settings
Gain quick access to your account settings and billing details