A Brief History of Vesica
Vesica has been inspired by an art collector - keeping galleries in mind - designed by an artist and developed by a software development company. We made sure all the boxes got checked and we're continuing to enhance the functionality of the software on a daily basis.
The Insipiration
Vesica was created because an artist who was looking to document a private collection for a prominent art collector couldn't find any suitable software. Our artist and collector both resided in different countries (different continents, as a matter of fact) and were unable to find a tool that would help them collaborate and document the entire collection. Lo and behold, we had our end user, business requirements and investor.
After much research with museums, galleries and art consultants, a list of desirable features was drawn up and Vesica was born.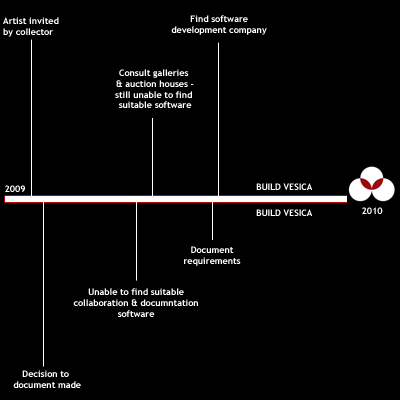 The development of Vesica between 2009 and 2010 left no stone unturned.
What is Vesica?
Vesica is an on online art collection management application. Delivered as a service in a browser, Vesica is simple but comprehensive, making it ideal for museums, art collectors, galleries and artists. It offers an end to end, complete solution for those looking to document, manage and market art collections of all sizes - from 10 to 50,000+ pieces.

Features
The Vesica list of features is a massive expanse of everything you will ever need to document about art. So whether you're a museum looking to manage and monetize your collections or an art collector looking to get organized, Vesica will give you everything you need in one application. Best of all, it's constantly updated with new features.