Audio Management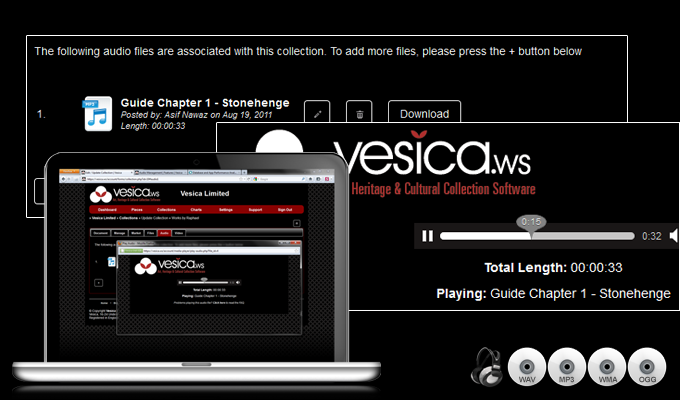 Store, stream and share audio guides and files.
Vesica was developed as a central hub for everything related to your collections - including all media. That's why we decided to allow for management and storage of all your audio guides and files. And because Vesica essentially replaces any desktop applications you may be using to store all of your collection assets, there's no restriction on storage space for audio files - so you don't have to worry about backing up your media on local drives.
Vesica's audio management and streaming platform is built with the latest technologies in mind. Audio is streamed using HTML5, which not only makes it cross browser compatible, but allows for native support on mobile devices and tablets, removing the need for Adobe Flash plugins.
Vesica supports some of the most popular audio file formats, including MP3, WMA (Windows Media Audio), OGG (the open source media formatted officially supported by Mozilla) and WAV.
Upload unlimted audio files
There's no restriction on the number of audio files / guides you can upload for each piece or object
Share / reuse audio files between objects
Create one snippet of audio for multiple objects? Reuse it!
Multiple file types supported
File formats currently supported include MP3, WAV, OGG and WMA
Upload audio files up to 200MB each
Upload, manage, stream and share audio files up to 200MB in size
Stream audio on desktop and mobile devices
Streaming supported via the HTML5 audio player