Documentation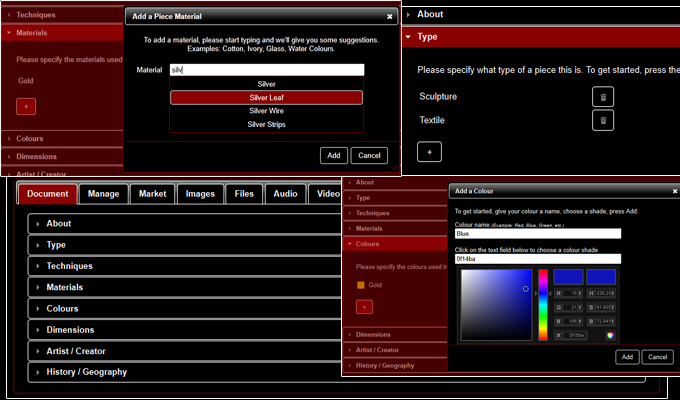 Document everything about your collections with Vesica.
Techniques, history, materials, artist details, legal paperwork, acquisition details, images, audio guides - these are just some of the things you can document about your objects and collections in Vesica.
Built on the CDWA standard and feedback of clients, Vesica is the complete collection management system. It allows you to document your objects in detail, just like a museum would, but many of the fields are optional, so you fill in the information you have available, and update it when and as you need to.
Once you've entered everything, Vesica allows you to search your entire collection - with just a couple of clicks. So if you'd like to see all the objects in your collection from the last 200 years that came out of the Netherlands, just choose your dates and country, and you'll get your list. Want to edit one of these and add more details, no problem.
Vesica really does allow you to record everything that's important. We have customers using Vesica as the basis for their thesis, books and collection catalogs.
Sign Up and see how easy it is to document a collection professionally with Vesica.
Techniques
Record details about techniques - then search, filter and print reports
Document by colour
That's right - document your collection based on the colours within your objects - you can then see all objects that contain, for instance, the colour red
Historic details
Add symbolism and history - from periods and dynasties to regions, countries and historic events affiliated with your collections
Materials
Record details about artists - then search, filter and print reports
Location Management
Manage locations and up to 2 sub-locations for each object
Record artist information
Document periods and dynasties
Store conservation details
Accession management
Add administrative, legal and financial details