Search and Reporting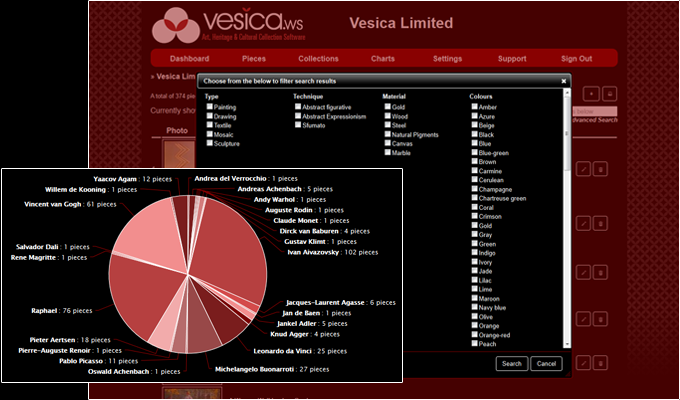 Search. Filter. Visualize. Export to Microsoft Word. Print.
Searching all the pieces in your Vesica account is easy. We even help you further filter the results, visualize your collections and print reports, at the object or collection level.
The search functionality is built to work fast with the latest technology - it delivers results instantaneously and allows you to filter the results without having to wait for pages to load each time. Once you've got the list of objects you are after, print it. You can further dig into a particular object and print reports at the object level.
Vesica also generates beautiful, analytical pie charts to illustrate your collection - by object types, techniques, materials, artists, countries and regions. If you have an active online gallery, you can even see traffic analysis reports and charts for your gallery.
Search objects by various parameters
Search by virtually any parameter within Vesica - techniques, materials, period, dynasty, region and more
Filter by screen content
You can further filter search results - just type and the results get sorted on-screen
Get beautifully illustrated Pie Charts
See your collection visually by type, technique, region and more
Drilldown functionality on charts
Click on charts to dig deeper in your collections
Print search results
Print detailed object reports
Export detailed object reports to MS Word
Online gallery reports and statics by month and object