Video Management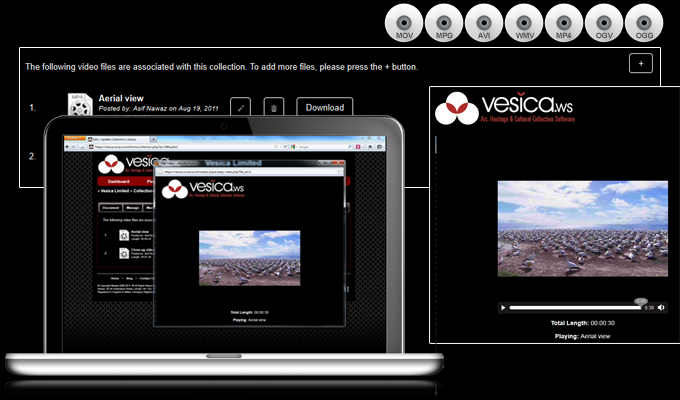 Manage, stream and share video content.
When it comes to our history or our future, nothing does the job like video. In fact, in many museums and exhibitions, the use of 3D video or video footage is becoming common, and is critical to bringing exhibitions to life.
We understand that, and realize that video can also be critical to enhancing the online experience for your visitors / audience, so video support is native to all Vesica accounts. So whether you want to store your videos just to share internally, publish to it to your online gallery, or display it on your website via the API, you can do that - without any restrictions. As with all other media, there is no restriction on the number of video files you can add for each object or collection - storage is unlimited.
Not only that, video is supported via HTML5, making it compatible with deskstop and mobile devices. Some of the most popular video file formats, including MP4, WMV (Windows Media Video), AVI, OGG/OGV (the open source media formatted officially supported by Mozilla) and MOV (Apple Quicktime) are supported.
Upload unlimted video files
There's no restriction on the number of video files you can upload for each piece or object
Share / reuse video files between objects
Create one snippet of video for multiple objects? Reuse it!
Multiple file types supported
File formats currently supported include MP4, WMV, AVI, MOV, OGG and OGV
Upload files up to 1GB each
Upload, manage, stream and share video files up to 1GB in size
Stream video on desktop and mobile devices
Streaming supported via the HTML5 video player