Multiple Users & Accounts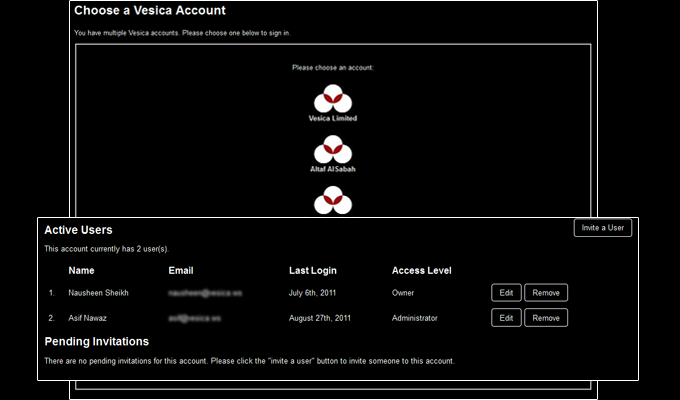 Flexible User / Account structure to manage your museum or consultancy.
Vesica's user and account structure is developed with the utmost flexibility whilst keeping in mind the importance of security.
Because it is used by a variety of users and organisations, Vesica supports user and account management to allow for flexible use for museums, art consultants and heritage organisations.
As a user, you can have acccess to more than one account. As an owner on one account, you can see everything from account management to billing to user management. As a documenter on another, you will only be allowed to manage objects and collections. The best part is that you don't need to have separate credentials for each account. If you are assigned access to multiple accounts, we'll let you choose which one to go to when you sign-in.
As a museum or other heritage organisation, then, you can add an unlimited number of users to your account.
As an art consultant, you can create multiple accounts for each of your clients, manage their collections and grant them access to the accounts to view, edit and update their own collections.
Create & manage multiple accounts
Create, manage and document with multiple accounts using the same sign-in credentials
Role based access
Assign roles to users for varied permissions - as administrators, managers or documenters
Unlimited users
There's no restricton on the number of users you can add to your account