Legal & Financial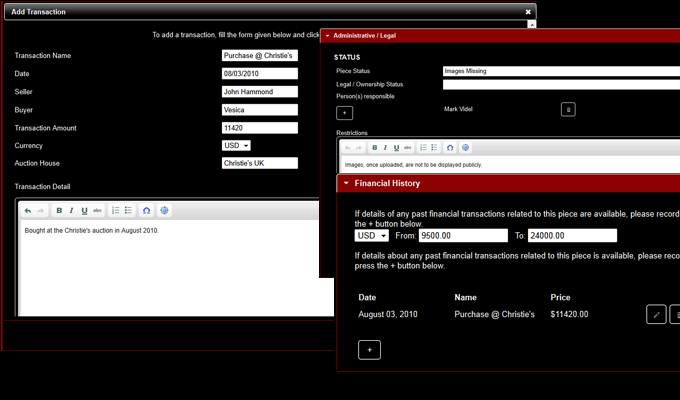 Record legal and Financial Details for your objects.
Administrative / Legal
Vesica allows you to store information regarding legal owners and any restrictions the objects in your collection may have (for instance, you may not be allowed to publicly display images of some of the objects / pieces online). That way any users in your organisation will know that whilst they must restrict its use on your public gallery or elsewhere via the API.
If your organisation has various curators or employees managing different objects and / or collections, you can assign responsibility to different employees or users. You can even sort your collections by persons responsible for various objects and print the results for meetings.
Value & Transaction History
In addition to allowing for management funds and acquisition records, Vesica allows you to track the estimated value and historic transactions on objects in your collection. Who may have owned or where the object was auction'd can greatly add to its value.
Track transactions by past buyers, sellers and auction houses.