Image Management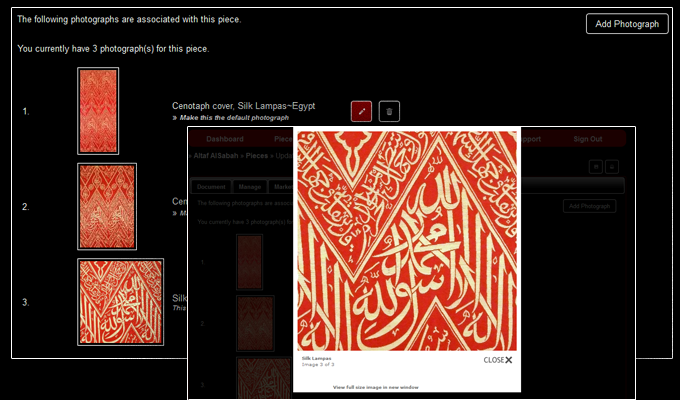 Upload, crop, annotate and manage unlimited images with no storage restrictions.
A picture is worth a thousand words - we know it plays a key part in helping you document, explain, share and market objects in your collection. But sometimes you need more than one picture, in different formats and different sizes - we'll even let you upload multiple images at one time. Perhaps you would like to store images at a print and screen resolution. Maybe you want a closeup view with annotation.
If you publish catalogs, you might like to store images in different formats with different colour configurations, to support different print vendors and their equipment, so the end result on a paper, in a book, or a catalog looks the same.
Whatever your requirement, you can upload unlimited images in Vesica - there's no storage limit either. You can even crop and annotate images, add different print versions, tag them as such and send them to your print vendor if needed. It's all part of our plan to make managing images easy, simple and comprehensive.
Upload unlimted images
There's no restriction on the number of images you can upload for each piece or object
Unlimited storage
No restriction on storage - so you'll never pay extra - even when you add new, hi-res images
Upload images up to 200MB each
Unlike other web apps, with Vesica you can upload image files up to 200MB each
Multiple file types supported
Upload and store JPG, GIF and PNG files. SVG coming soon!
Publish, share or restrict access
You can decide whether or not share the images online or in your gallery
Upload up to 5 images simultaneously
Crop and annotate images