Document Management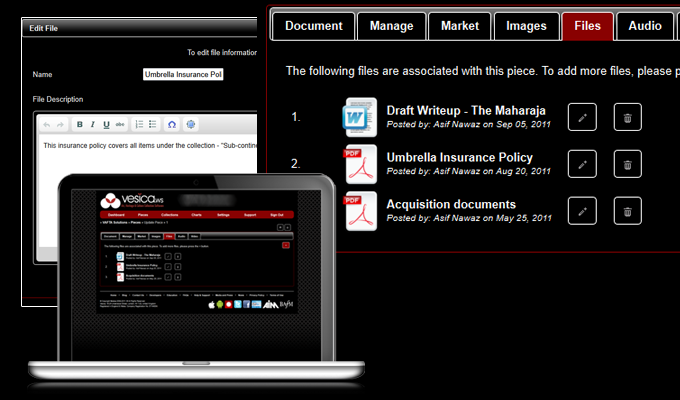 Store all your collection related documents in Vesica. That's all your documents - with no storage restrictions.
That's pretty much the gist of it. You can upload and file all of your collection related documents - insurance policies and certificates, acquisition documents, legal contracts, shipping bills, artwork - whatever you need, in one place, associated with the items where you'd like easy access to them.
We support all common document formats, including Microsoft Word, PowerPoint, Excel and PDF. You can also upload and manage your artwork files, and with the print module being developed, you'll soon be able to add a variety of design software related files (along with the already supported Adobe Photoshop and Illustrator formats).
Upload unlimted documents
There's no restriction on the number of files you can upload for each piece or collection.
Share / reuse files and documents between objects & collections
Have a blanket insurance policy for all your textiles? Reuse it!
Multiple file types supported
File formats currently supported include DOC, DOCX, PPT, PPTX, PPS, PPSX, XLS, XLSX, PDF, PSD AND AI. Many more coming soon.
Upload files up to 200MB each
Upload and manage files up to 200MB in size
Upload multiple files simultaneously